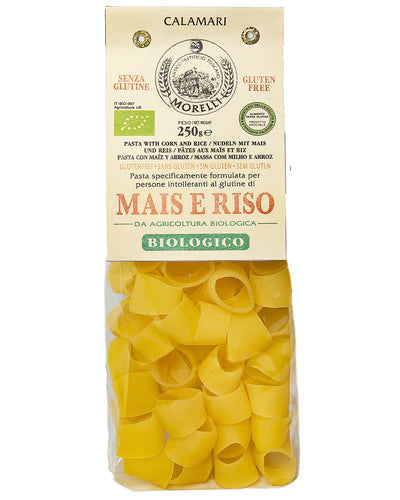 Morelli 'Calamari' Corn & Rice Gluten Free Pasta 250g
Morelli organic gluten free calamari is a ring-shaped pasta made with rice and corn flour. This pasta takes its name from the squid rings it resembles. Handcrafted and dried at low temperature, this pasta is an excellent choice for those who are intolerant and / or allergic to gluten. It goes well with all types of sauces. 
Cooking time 16 minutes
Ingredients: Yellow maize flour 65%*, white maize flour 20%*, rice flour 15%*, water. *organic
So, who makes this stuff?
Pastificio Morelli has been producing pasta near Pisa since 1860 and is still family run.
Unlike most other pasta, Morelli make theirs using ancient artisan methods and include wheat germ, the heart of the grain, resulting in a unique, healthy and delicious product.