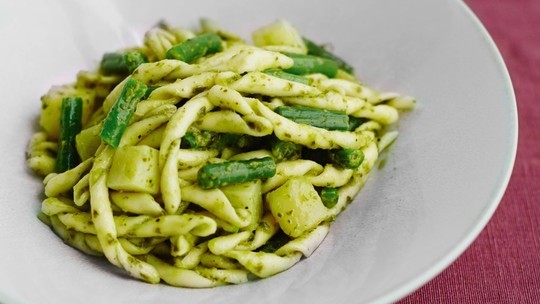 Pasta Sauces Without Tomatoes? There's a Thought….
When it comes to serving pasta, we usually think of sauces made with tomatoes, but there are lots of other options!
In this blog (part 1 of 2) I have some recommendations to give you an alternative to the usual tomato-based sauces.
Go on…. Try something different!
If you like Italian food you probably like basil pesto, which is a speciality of Liguria on Italy's north west coast.
All the basic ingredients grow abundantly on the steep hillsides of this beautiful Mediterranean region. Genoa is the region's main city, hence the name 'Pesto alla Genovese'.  
In the local dialect pestâ means 'to crush' or 'to pound'. The name of the sauce comes from the traditional method of making the sauce, blending the ingredients together by pounding using a mortar and pestle.
This method of making sauce can be traced back to Roman times.
Today you can buy, or make, lots of different versions of pesto, but pesto made with basil remains the most popular choice.
In Liguria, pesto is traditionally served with a pasta shape called Trofie, which are short pieces of pasta twisted into a tight spiral. And as with all regional Italian pasta and sauce combos, it works perfectly!
You can of course just serve pesto on its own with some cooked pasta.
But why not go all Ligurian?
Here is a simple recipe to super-charge your pesto pasta!
Morelli Trofie with Potatoes and Green Beans (serves 2)
Allow about 100g of uncooked Trofie pasta per person.
Add the pasta to a large saucepan containing plenty of boiling, salted water.
Morelli Trofie takes around 14 minutes to cook. Set a timer for 9 minutes.
While the pasta is cooking on the hob, peel a small potato (waxy varieties work best, like Charlotte, Maris Piper, Jersey Royals – though I often use Rooster potatoes) and cut into small cubes of about 2cm.
When your timer signals 9 minutes is up, add the cubes of potato to your cooking pasta.
Start the timer again, for a further 5 minutes.
Next, cut a handful of green beans, slicing each bean into 3 or 4 pieces. Put these into the pot with the pasta and potatoes for the last 4 minutes of the cooking time.
Now when your timer goes, the Trofie has been cooking for 14 minutes.
Check the potatoes are soft by trying with a fork, then drain off the water.
Now all you need to do is add the pesto sauce straight from the jar and mix well through the cooked pasta, potato cubes and green beans.
Allow to stand for a few minutes to allow the flavours to develop before serving into bowls, and finish with some grated Parmesan or Grana cheese.
Pesto alla Genovese is also great with our La Molisana Potato Gnocchi or to flavour-up grilled vegetables or bruschetta. You can find products here in our online store:
www.buonappetitodeli.com/collections/dried-pasta/products/morelli-trofie
www.buonappetitodeli.com/collections/pasta-sauce/products/alce-nero-organic-basil-pesto-alla-genovese-130g
www.buonappetitodeli.com/collections/gnocchi
Staying with the Ligurian theme, there is another delicious sauce from the region that you must try!
It seems that sauce made with walnuts and garlic pre-dates even basil pesto.
I first tried walnut sauce with pasta in a small restaurant in the village of Vernazza, one of the five villages of the Cinque Terre.
It was an absolute revelation – something I had never tasted before – and it impressed me so much I told our waitress I'd love the recipe.
When we had finished our pasta, the waitress came back from the kitchen with the recipe, passed on by the chef!
I did try to recreate the sauce a number of times, with varying results, but never quite got it the way I remembered the dish in Vernazza.
But then recently I discovered a walnut sauce made by Roi, a quality olive oil grower from Liguria - no colourants or preservatives are added.
Treat this walnut sauce like you would pesto - simply add to cooked pasta – fresh pasta works best here.
Pair with our fresh egg tagliatelle pasta or try it with La Molisana potato gnocchi.
www.buonappetitodeli.com/collections/pasta-sauce/products/roi-walnut-sauce-90g
www.buonappetitodeli.com/collections/fresh-pasta/products/san-marco-fresh-egg-tagliatele-250g
Pasta sauce without tomatoes? No problem – experience a taste of Italy, off the beaten track....
Buon appetito!
Michael