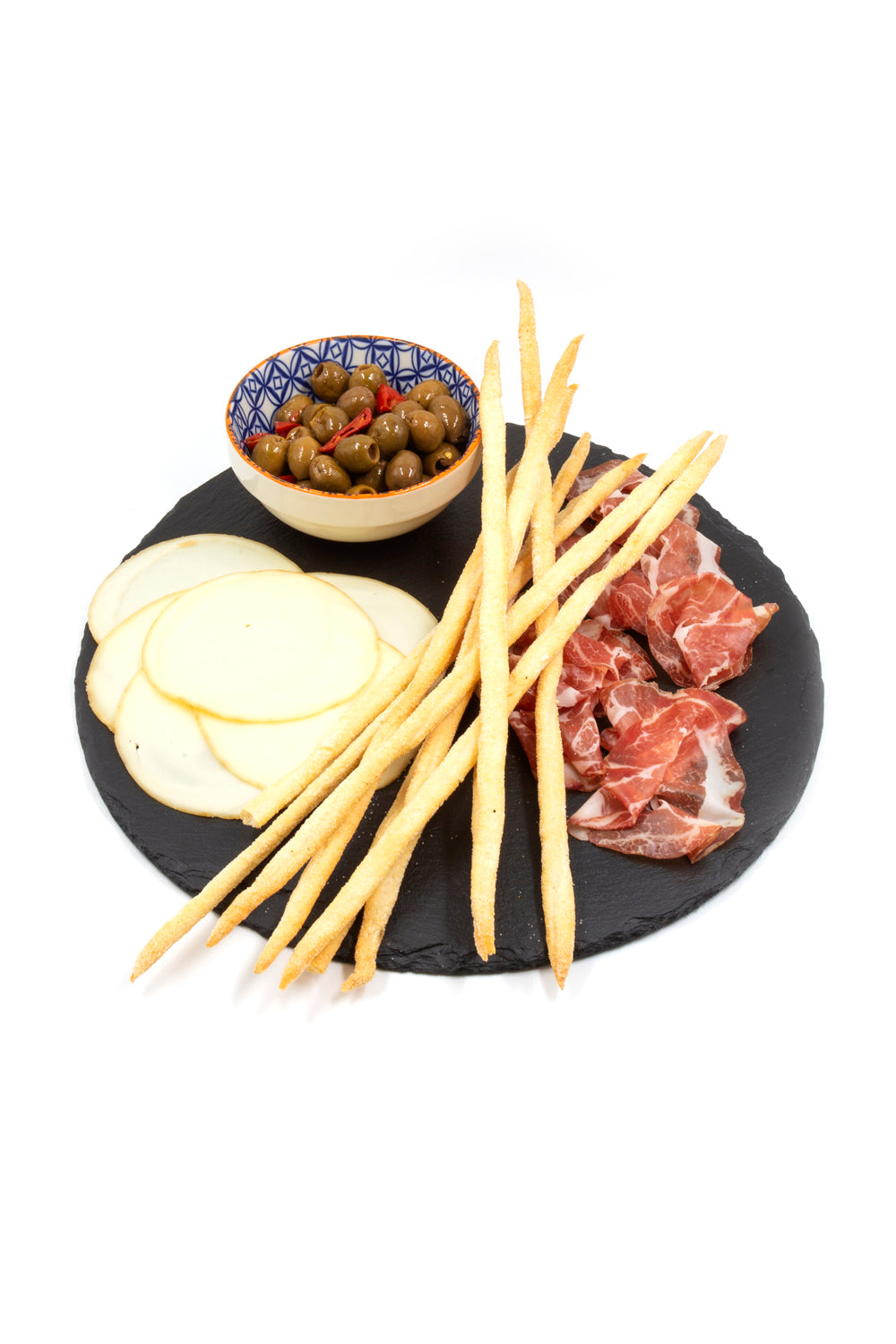 Antipasti Explained!
When talking about Italian food, a lot of people ask me ''What exactly does antipasti mean?''
The word antipasto (singular) means literally 'before the meal', and not 'before the pasta' as it is sometimes taken to mean.
Antipasti (plural) are served as appetizers and can be hot or cold.
Typical antipasti are slices of cured meat, vegetables in oil or vinegar, anchovies (or other fish and shellfish), olives and various cheeses.
A platter of mixed antipasti is perfect for sharing!
You can do the Italian thing and serve as the precursor to several other courses, but I also like to prepare a selection of antipasti as snacks to have with drinks.
You can achieve maximum flavour with minimum effort & prep!
Here are a few tips for making an antipasti platter to impress guests and experience a slice of La Vita Italiana!
Olives: They seem to have that 'Marmite' quality for many people, but love them or can't stand them, they are part of the Italian food experience! At Buon Appetito we have jars of pitted black Leccino olives which are perfect to serve as an antipasto.
Give your bowl of olives a turbo charge by adding a few roasted walnuts, small pieces of lemon and a sprig or two of fresh rosemary.
Grissini: Breadsticks add a nice crunch and texture to any antipasti selection. Our grissini are crafted by Mario Fongo in the Piemonte region. Made with 100% extra virgin olive oil, these breadsticks are hand stretched, giving them a unique rustic appearance & texture. 
Try serving them with a slice of prosciutto wrapped around part of the stick.
The pack contains a selection of Salame Milano, seasoned Coppa & 18 month aged prosciutto.
Cheese: You don't have to save cheese until after the main course! For me, no antipasti selection is complete without some cheese. The ideal choice is our Pecorino Cheeses 3 pack, with three different expressions of Pecorino sheep's cheese - fresh (fresca), part-aged (semi-stagionata) & aged (stagionata).
For a delicious taste-twist try serving some the pecorino with some honey - which also works well with Grana cheese. Add some Smoked Provolone slices to your platter for more delicious flavour.    
Crostini: Slices of toasted bread, such as ciabatta or sourdough, with different toppings are super-tasty mouthful. Here are a couple of suggestions to try with products available from our online store…
 Alicos Tomato & Basil Bruschetta Topping
Don Antonio Semi-Sundried Tomatoes
N'duja Spreadable Spicy Salami
Veggies: For a fresh & delicious antipasto, griddle slices of courgette (zucchini) & aubergine (melanzane) then toss in extra virgin olive oil with a pinch of salt.
Or for convenience, just open a jar of Sundried Zucchini…
… or jar of Sicilian Caponata.
Why not have some fun & experiment with a few of these ideas & suggestions!
Whatever you decide upon, serve your selection on a large platter or serving board, then pour a glass of your favourite tipple.
 Buon appetito!
 Michael